The Great Old Ones
Contributed by:
Thulsa (

), based on the "Call of Cthulhu" d20 sourcebook by Wizards of the Coast.

"'This was the temple of the old ones,' she said, 'Look -- you can see the channels for the blood along the sides of the altar, and the rains of ten thousand years have not washed the dark stains from them. The walls have all fallen away, but this stone block defies time and the elements.'
'But who were these old ones?' demanded Conan.
She spread her slim hands helplessly. 'Not even in legendary is this city mentioned.'" -- Robert E. Howard: "The Queen of the Black Coast"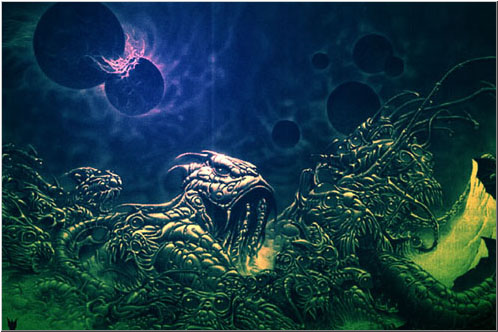 The abominations imagined by H. P. Lovecraft in the so-called "Cthulhu Mythos" easily fit into Robert E. Howard's world of Conan, Kull and the Hyborian Age. Below is a list of entities from the Call of Cthulhu d20 rulebook, along with their corresponding clerical domains. Any of these beings can be used as deities in a Hyborian Age campaign.
| | | |
| --- | --- | --- |
| Azathoth | Evil, Chaos, Madness, Death | Greater God |
| Chaugnar Faugn | Death, Destruction, Evil | Demigod |
| Cthugha | Fire | Demigod |
| Cthulhu | Evil, Death, Destruction, Water | Demigod |
| Dagon | Water | Demigod |
| Eihort | Chaos, Destruction, Madness | Demigod |
| Glaaki | Water | Demigod |
| Hastur | Chaos, Destruction, Evil, Madness | Demigod |
| Hydra | Water | Demigod |
| Ithaqua | Evil, Air | Demigod |
| Mordiggian | Death | Demigod |
| Nodens | Animals (Hunting), Destruction, Strength, Water (Sea) | Lesser God |
| Nyarlathotep | Chaos, Destruction, Madness, Magic, Trickery | Intermediate God |
| Shub-Niggurath | Animal, Chaos, Evil, Earth, Plant | Intermediate God |
| Shudde M'ell | Earth | Demigod |
| Tsathoggua | Destruction, Knowledge, Magic | Demigod |
| Yig | Animals, Death, Protection, Trickery | Demigod |
| Yog-Sothoth | Chaos, Luck, Protection, Travel | Intermediate God |