Meru

"'You asked why we call our king a god; it is because he has lived for 10,000 years, his spirit being reborn in a different body after each sojourn in mortal flesh. (...) Yama, king of demons, created this valley for us, his chosen people, to dwell on -- under the shamans, of course. If we defy the shamans, Yama's great spell creating the valley will be nullified -- and this land will rise high, and become again a cold waste where no man can dwell! Jalong Thongpa is the only-begotten son of Yama himself... and when he calls his father... the god comes!'" -- Roy Thomas/L. Sprague de Camp: "The City of Skulls"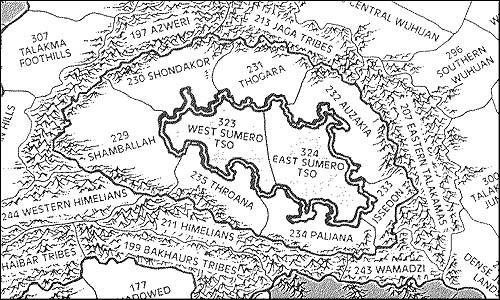 A little-known kingdom situated south of the Talakma Mountains and north of the Himelians.

It was a vast intermontane basin containing a brackish lake, Sumeru Tso, on the shores of which stood the Seven Sacred Cities. Its capital was Shamballah, the City of Skulls.
Meru was warmed by volcanic activity far below the surface. Thus, despite its isolation in the barren mountains, it maintained a tropical climate. Many of the plants and animals of the Black Kingdoms thrived in Meru's clime.
A god-king or rimpoche ruled Meru. Known as Jalung Thongpa, Terror of Men and Shadow of Heaven, the ever-reincarnating son of Yama; when Jalung Thongpa died, the priests scoured Meru for the child born at the time of the previous Rimpoche's death; this child, no matter how deformed or unfit, was declared Jalung Thongpa's reincarnated form.
Meru had little contact with the outside world. A few Hyrkanian tribes traded for gold and jade, but most Hyrkanians left the Meruvians alone.
Legend said that if the people defied the rule of the shamans, Meru would rise to the height of the mountains, becoming a cold wasteland. Something of the sort evidently happened, since the region is known as Tibet in modern times.
References: City of Skulls, Conan the Buccaneer, Conan of the Isles.
Population: 760,000
Capital: Shamballah (pop. 160,000)
Ruler: Jalung Thongpa (the ever-reincarnating son of Yama)
Major cities: Throana, Paliana, Issedon, Auzakia, Thogara, Shondakor
Resources: Gold, jade
Imports:
Allies:
Enemies: Turan
Tech level: Oriental
Religion: Yama